Our prices
| Apartment | Number | Price |
| --- | --- | --- |
| "Kastelruth" | for 2 persons | 50,00 - 105,00 € |
| "Schlern" | for 2 persons | 50,00 - 105,00 € |
| "Seiser Alm" | for 4 persons | 75,00 – 160,00 € |
| "Dolomiten" | for 4 persons | 75,00 – 160,00 € |
Room inquiry, we will reply by return!
Prices and discounts
The prices apply for a minimum stay of 4 nights per apartment and night.
For every additional person we charge 12,00 €/night.
The prices includes: Bed linen, hand, bidet and bath towels, fully equipped kitchen, TV, W-Lan, electricity and heating, fresh bread service, barbecue possibilities, carpark, ski storage, the final cleaning and any fees and taxes, with the exception of local tax.
For a small fee, you may use the washing machine and the dryer.
The amount of local tax is calculated based on the municipal regulation at the time of the stay (Euro 1,75 per day and person above 14 years of age).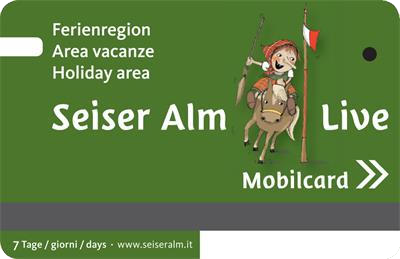 Guest card
Our guests get the "Holiday Area Seiser Alm Live Card" to use the public transportation (buses and trains) in South Tyrol.
Additional charges and terms of payment
Deposit: We welcome written reservations via e-mail. The reservation will be confirmed once the deposit of 150,00 € per week has been paid.

Trocker Oswald
Raiffeisenkasse Castelrotto
IBAN: IT 49 L  08056 23100 000300207560
SWIFT-BIC: RZSBIT21011
The deposit will not be refunded in case of cancellation.
For stays of less than 4 days there is a surcharge of 20,00 € per person and night.
The fee for final cleaning is already included in the price.
Payment:  Please pay cash on site. Please pay cash on site. The cash limit in Italy amounts to 3,000 €. The following payment methods are accepted: non-transferable check, bank transfer.
Discounts for children
Kids from 2 years up to 8 years pay 5,00 €.
Kids from 8 years pay 10,00 €.
Baby equipment is available free of charge upon request.
Pets
By agreement we charge for your four-legged family member 10,00 € per day (without food).
Please bring your own basket or blanket for your pet.
Arrival and departure
Arrival: On arrival day, we expect you starting from 13:00 clock. Of course, you can also arrive earlier. In case of a delay, we look forward to receiving a message from you.
Departure: On departure day, we ask you to leave clean your holiday apartment not later than 09:00. Thanks! Other times are possible upon request.
Cancellation
You may cancel your reservation until 60 days prior to arrival without any cancellation fee. We will retain only the deposit. In case of a cancellation between 60 days before arrival and the booked day of arrival,  following cancellation fees apply:
Cancellation until 28 days before arrival: 50% of the full price; cancellation less than 28 days before arrival: 80% of the full price.
In case of "no show" or early departure, the guest is required to fully pay for the entire booking period.
Please inform us in advance if you are unable to take your holiday.
Mandatory information according to the EU Regulation No. 524/2013 of the European Parliament and Council. Platform for online dispute resolution for consumer disputes (ODR) to the European Commission: ec.europa.eu/consumers/odr/
Cancellation insurance
As a special service and to save costs, we offer you cancellation insurance. Read here all about the benefits of travel insurance.
Exclusion of liability
We strive to provide accurate and complete information on this website. However, we assume no liability or guarantee for the topicality, correctness and completeness of the information provided. We reserve the right to make changes without notice or to amend the information. Only the specific service offer or the booking confirmation is binding. For external links we can – despite careful control – assume no liability. For the content of linked pages exclusively their operators are responsible.
Privacy policy
According to the legal decree no. 196/2003, we inform you that your data will be used and stored for processing your inquiry and will not be divulged or communicated to third parties. In terms of data processing you have all rights in art. 7, legislative decree no. 196/2003. Right holder: Oswald Trocker.
Further information on your rights are available here.
Please note
We specifically refer to the legal provisions Art. 45-67 of the Italian Consumer Protection Code 206/2005.
Room inquiry, we will reply by return!